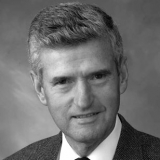 Awards
IUAA President's Award (2008)
Maurer School of Law Distinguished Service Award (1997)
About Lindy G. Moss
Lindy G. Moss earned three bachelor's degrees from IU; in business in 1949, in government in 1950, and in law in 1952. A supporter of IU and the Alumni Association for more than 50 years, Moss served as president of the School of Law Bloomington Alumni Association from 1967-69 and was awarded its Distinguished Service Award in 1997.
In 1998, he was elected to the board of the John Whittenberger Society and became the society's president in 2003. The Northeast Chapter of the IUAA awarded him its Distinguished Alumnus Award in 2001. In addition, Moss belongs to the Varsity Club and the Woodburn Guild and is a life member of the Friends of Music as well as the IUAA.
Moss has remained active with his fraternity, Delta Upsilon, and currently serves as president of its Wrangler Foundation. He has served as president of the Fort Wayne Rotary Club and Fort Wayne Quest Club and has served on the board of directors of the Parkview Memorial Hospital and the Allen County Bar Association. He and his wife, Jeanne, live in Fort Wayne, Ind., where he has practiced law since 1956.