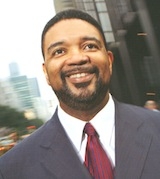 Awards
Maurer School of Law Academy of Law Alumni Fellows (2011)
Maurer School of Law Distinguished Service Award (2004)
About Rapheal M. Prevot, Jr.
Rapheal M. Prevot Jr. was a devoted Indiana Law supporter and 2004 recipient of the School's Distinguished Service Award.
Prevot lived the dream of many young attorneys, serving for more than 15 years as Labor Relations Counsel for the National Football League in New York. Prior to this role, he worked as assistant attorney and division chief for Janet Reno in the Dade County, Fla., State Attorney's Office and as a litigator for Florida-based Adorno & Zeder. Prevot was a dedicated member of the National Bar Association and was inducted into the Hall of Fame for the group's Entertainment, Sports, and Art Law section. He was a regular speaker at universities and legal seminars nationwide.
Regardless of how busy his career kept him, Prevot always found time for others and nurtured the dreams of many young attorneys, particularly Indiana Law graduates. Despite living on the east coast, he was a fixture at the Law School, serving faithfully on the Alumni Board since 1993 and on the Board of Visitors since 1997, where he was elected the youngest president in Board history. Prevot mentored hundreds of IU students and would regularly attend Law School events such as the Barrister's Ball. For his incredible and dedicated service to the Law School community, Prevot was honored in 2004 with the Distinguished Service Award.
Prevot once said that his Indiana Law experience inspired him to reach back over the years and help students. He contributed to the Charles Wilson Memorial Scholarship, named for a classmate who died in 1984. "[Charles Wilson] was an inspiration to me and showed me how to make it through law school," he said. "I wanted to be able to give another student the opportunity to be inspired by someone else's generosity." Likewise, Prevot's warm heart and generous spirit have been an inspiration to so many. With his untimely death in 2008 at 49, the legal community lost a dedicated and talented professional.