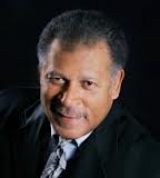 Awards
Maurer School of Law Academy of Law Alumni Fellows (2007)
Maurer School of Law Distinguished Service Award (1997)
About Milton O. Thompson
Milton O. Thompson is the president and CEO of Grand Slam III LLC, a sports and entertainment marketing consultancy, and counsel for Bleek, Dillon, Crandall Attorneys in Indianapolis. He is also a emeritus member of the Board of Visitors at Maurer School of Law. He specializes in business law and consulting for entrepreneurs and non-profits, small business financing, and MBE and WBE certification.
In addition, he is active in the sports community. Thompson is a certified Contract Advisor with the NFL and NBA Players Association, and Board Member of the Indianapolis Indians Baseball Club. He hosts the weekly radio show "Playing for Keeps" on ESPN950. He has served as President and Interim Director of Big Brothers while merging with Big Sisters to create Big Brothers and Big Sisters of Indiana. Thompson also played a key role in negotiating the merger between the Legacy Fund and the Indianapolis Foundation in 1997 to create the Central Indiana Community Foundation.
His numerous civic involvements including Federal-Court-appointed trustee of the Indianapolis Foundation, serving as the President of the Indiana University School of Law Board of Visitors, being the former General Counsel to the Pan American Games, and holding the position of Vice President of Indiana Sports Corporation. Thompson has served as a member of the college's Wittenberg Board of Trustees since July 1998. A former Marion County Deputy Prosecuting Attorney, his honors include the 2004 Business & Philanthropy Award from the National Center for Black Philanthropy, Washington, DC, and being listed as one of "Indiana Super Lawyers", in the March 2005 issue of Indianapolis Monthly Magazine.