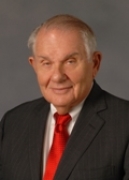 Awards
School of Medicine Glenn W. Irwin, Jr. Distinguished Faculty Award (1998)
About Stuart A. Kleit
Stuart Kleit received his D.D.S. from the University of Pennsylvania School of Dentistry in 1957 and his M.D. from the University of Florida School of Medicine in 1961. He completed a residency in internal medicine and a National Heart Institute Research Fellowship in renal medicine at the University of Florida, where his lifelong interest in renal disease was born. The following year, Dr. Kleit served as Dr. John Hickam's chief medicine resident at the Indiana University School of Medicine.
Dr. Kleit served in the U.S. Navy Medical Corps as Commanding Officer of the Clinical Research Center at Oak Knoll Naval Hospital. In 1967 he was recruited by Dr. John Hickam to return to the IU School of Medicine to become the founder and first Division Chief of Nephrology in the Department of Medicine, a position he held for 22 years.
In 1985 he became Associate Dean for Clinical Affairs. Shortly after moving to the Dean's office, he was also appointed Interim Director of Hospitals. Following that period Dr. Kleit became Associate Chief of Staff and oversaw all Medical Affairs, Graduate Medical Education and Clinical Programs. He was instrumental in the formation of Clarian Health Partners, now known as Indiana University Health, serving as executive vice president and also as vice president.
Dr. Kleit retired in 1998 and was named Associate Dean Emeritus and Professor Emeritus of Medicine.