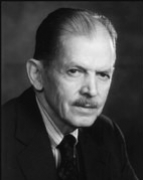 Awards
School of Medicine Distinguished Alumni Award (1976)
About Edwin Boldrey
Edwin B. Boldrey was a professor of neurosurgery at the University of California-San Francisco and a 1932 graduate from Indiana University School of Medicine. Born in Indiana on July 17, 1906, Boldery attended DePauw University in Greencastle, IN. He graduated with an A.B. in English in 1927 and a M.A. in anatomy and psychology in 1930. During his time at medical school, Boldery was elected to Alpha Omega Alpha. After obtaining his M.D., he began his postgraduate training at the Montreal General Hospital, and later went to the Montreal Neurological Institute at McGill University. At the institute, Boldery worked with Dr. Wilder Penfield on cortical localization. With Penfield, he studied and published original contributions that provided the fundamental anatomical correlates of much of the clinical physiology of motor and sensory cortical mechanisms in humans. He completed his residency in 1939. Boldery also received an M.Sc. degree in neurology and neurosurgery in 1936.
In 1940, Dr. Boldery joined the Department of Neurological Surgery at University of California - San Francisco, where he served on the faculty for 48 years and as Chairman from 1951 to 1956. Dr. Boldrey has made many important contributions to his specialty, including the development of new concepts of cortical physiology. He was considered one of the country's foremost neurosurgeons and hadinternational stature as a master surgeon. He was a pioneer in the therapeutic use of radiation for cerebral arteriovenous malformations and brain tumors. Among his many other contributions, to improve surgery for cervical intervertebral disc disease he developed an anterior cervical approach using discectomy without fusion, and was the first to remove a compressive lesion without requiring a bone graft.
Dr. Boldery was a member of more than 25 neurosurgical and medical societies and is past president of the American Academy of Neurological Surgery, the Western Neurological Society, and the Society of Neurological Surgeons, the oldest organization of its kind in the world. In 1970, he was appointed neurological consultant to the National Veteran's Administration in Washington, D.C. Throughout his career, Dr. Boldery has won awards including the 1971 Dr. J. Elliot Royer Award, which is given to a San Francisco Bay area medical professional in recognition of significant contributions to the advancement of psychiatry and neurology, and the 1976 Indiana University School of Medicine Distinguished Alumni Award.