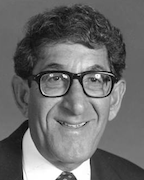 Awards
School of Medicine Distinguished Alumni Award (1995)
About William K. Nasser
Dr. William K. Nasser was an internationally-renowned physician who founded Nasser, Smith, & Pinkerton Cardiology (NSP) in 1973. In 1999, the firm merged with Northside Cardiology and Stoner, Schmidt, & Associates to form the Care Group, LLC, which became recognized as an exemplary site for cardiovascular services and as the largest nonacademic cardiology practice in the United States.
After high school, Nasser served in the U.S. Army in the Korean War. When he was honorably discharged, he returned home to finish his undergraduate education at Indiana State University in Terre Haute, IN. During college, Nasser became interested in medicine and decided to pursue it after graduating in 1957. While he was in medical school at IU, Nasser had a bacterial infection in his heart, which resulted in him becoming one of the world's first "open heart" patients. He completed his internship and residency in internal medicine, and followed with a fellowship in cardiovascular disease. Dr. Nasser served on the faculty at Indiana University School of Medicine until St. Vincent Hospital in Indianapolis recruited him to help start a cardiovascular program. This program became Nasser, Smith, & Pinkerton Cardiology. Today, the firm has more than 130 physicians at over fifty office and clinic locations throughout Indiana. Its staff helped pioneer common treatments for angioplasty, atherectomy, and intra-coronary stents.
Dr. Nasser had his heart valve replaced three times in his life, along with a liver transplant. He wrote about his personal experiences in the 2003 autobiography, "Near to My Heart - An American Dream". The book's sales raised more than half a million dollars, which were given to St. Vincent Foundation, IU School of Medicine, Rose-Hulman Institute of Technology, Indiana State University, St. Mary-of-the-Woods College, and St. George Orthodox Church in Indianapolis and Terre Haute. He received many awards, including the Sagamore of the Wabash, the Otis R. Bowen Distinguished Leadership Award from the Dean's Council of the Indiana University School of Medicine, the St.Vincent Foundation's Physician Servant-Leader Award, the Distinguished Physician of the Year Award from St.Vincent Hospital, the American Heart Association's Lifetime Achievement Award and Cor Vitae Award for Outstanding Service, The Indianapolis Senior Center's Community Leadership Award, and the 1997 Indiana Entrepreneur of the Year Award.
Dr. Nasser belonged to numerous local, state and national organizations including the Board of Associates of Rose-Hulman Institute of Technology, the Indiana Public Health Foundation Board of Directors, Indiana State University Foundation Board of Directors, Central Indiana Council on Aging Foundation Board of Directors, Indiana University Medical Center Dean's Council Board of Directors, Chairman of the St.Vincent Hospital Foundation Board of Directors, and Indiana University Medical Center Alumni Council.
He passed away at the age of 72 in Indianapolis on September 2, 2005