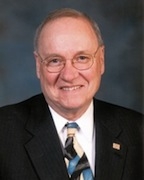 Awards
School of Medicine Distinguished Alumni Award (2000)
About Robert R. Hattery
Dr. Robert R. Hattery is a renowned radiologist based in Tuscon, AZ. He received his B.A. in Anatomy/Physiology and his M.D. from Indiana University, the latter received in 1964. He completed his internship at Parkland Memorial Hospital in Dallas, TX, and then served two years in the military. After his military service, Dr. Hattery finished his residency at the Mayo Medical School in Rochester, MN.
At completion of his residency in radiology, he became a coordinator and teacher of skeletal radiology and anatomy, paediatric radiology, and diagnostic radiology at Mayo Medical School and Mayo Clinic, where he would spend his academic career. Dr. Hattery became a specialist in diagnostic radiology when he was appointed as an instructor in that field in 1973. In 1982, he became a full professor at Mayo, and was named chairman of the Department of Diagnostic Radiology from 1981 to 1986. Dr. Hattery became the chairman of the Mayo Clinic Board of Governors, thus becoming the chief executive officer for all of the Mayo Clinic's operations in Rochester in 1994. He remained at the school until 1998.
In addition, Dr. Hattery has been the president of the Radiological Society of North America (RSNA), Society of Computed Body Tomography (SCBT), the Society of Uroradiology (SUR) and the American Board of Radiology (ABR). Currently, he is the executive director of the American Board of Radiology (ABR), a position he has held since 2002. He maintains professor emeritus status at the Mayo Clinic College of Medicine. Currently, Dr. Hattery is a clinical professor of diagnostic radiology at the University of Arizona in Tucson, where he educates radiology and urology residents in genitourinary imaging.
Dr. Hattery has devoted most of his research to imaging of the genitourinary tract, with particular emphasis on computed tomography (CT), CT urography, ultrasonography, and contrast agents. Additionally, his interests lie in the fields of organisational dynamics, transitions through change, continuous quality improvement, board certification and professionalism. He is a popular speaker in the area of genitourinary imaging, having completed visiting professorships and lectureships at institutions around the world, including Japan, China, India, Germany, Italy, Spain, and Scotland. Dr. Hattery authored or co-authored more than 150 publications throughout his career. He also has served on the editorial boards of RadioGraphics, Journal of Computed Body Tomography, Urologic Radiology, and Abdominal Imaging. Dr. Hattery has contributed as a scientific reviewer to Radiology, RadioGraphics, Urology, Urologic Radiology, Investigative Radiology, Abdominal Imaging, and American Journal of Roentgenology.
In recognition of his accomplished career, Dr. Hattery has been honored by many organizations for his contributions. He received the Hartman Gold Medal of the Minnesota Radiological Society in 1998, the gold medal of the American Roentgen Ray Society and the IU School of Medicine Distinguished Alumni Award in 2000, and the gold medal of the Society of Uroradiology in 2005. Most recently, he was awarded the honorary membership of the European Congress of Radiology and the European Association of Radiology.