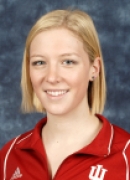 Awards
Olympians (2012)

Swimming and Diving
France
London, England
4x200M Freestyle Relay
Bronze Medalist
About Margaux Farrell
Margaux Ferrell was active in the School of Journalism at Indiana University Bloomington, where she studied television broadcasting and advertising. She was awarded two scholarships for advertising excellence and was a member of Indiana University's upper level advertising class, Agency 7.
Margaux was also a captain of the women's varsity swim team at IU. She was a primary scorer, was named three times First Team Big Ten, was an All-American, a school record holder, and a Big Ten Champion. In addition, she is a dual citizen of France and has competed on the French National Team. In the summer of 2010 she received a silver medal at the European Championships in the 800-meter freestyle relay. This past summer she competed at the World University Games in Shenzhen, China, where she broke two IU records in the 100 and the 200-meter freestyle.
Margaux was a member of the French women's 4 x 200m freestyle relay team, which won a bronze medal at the 2012 Olympics in the UK.
Currently, she is completing an M.A. in journalism at the University of Southern California.