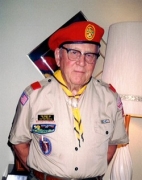 Awards
E. Ross Bartley Award (1984)

Bloomington, Indiana
Presenter: W. George Pinnell
About Timothy W. Rose
Timothy W. Rose was born in Jackson, Michigan and grew up in Monticello, Indiana. He received his B.S. degree in trades and industrial education from Purdue University, and he enrolled in several graduate courses in IU's School of Education.
Rose's professional career at IU began after more than 15 years of service to school systems throughout Indiana, particularly in Gary, Crawfordsville, and Bloomington. The varied posts Rose held in Hoosier public schools included industrial arts teacher, vocational counselor, and coordinator and business manager. In addition, Rose was the author of several training guides and manuals used by public schools and the U.S Naval Reserve. After coming to Indiana University in 1958, Rose served for 16 years as chief inspector in the IU architect's office, 11 years as the university's director of occupational safety and health, and for 10 overlapping years, as manager of numerous construction projects.
Rose managed the construction and opening of the Indiana University Art Museum, the William Hammond Mathers Museum, Shawnee Bluffs Alumni Family Camp at Lake Monroe, and the addition to the Cyclotron. He also served as a consultant with the Meadowood Retirement Community. During his more than 25 years of service to Indiana University, he influences the life of the university in significant ways, serving on many task forces, developing procedures, inaugurating staff education programs, supervising personnel, and managing construction projects. In addition to his contributions to IU, Rose served the state as a consultant and participant on many advisory boards and committees, and the city of Bloomington as a member and vice chairman of the Bloomington City Traffic Commission. He was also a member of the Boy Scouts of America, for over forty years, and received numerous awards from the organization.
Chancellor Herman Wells once said of Mr. Rose, "He is tireless, knowledgeable, forceful, and effective" and his receipt of the E. Ross Bartley Award in 1985 recognized these outstanding qualities.