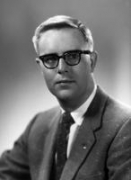 Awards
E. Ross Bartley Award (1993)

Indianapolis, Indiana
Presenter: Thomas Ehrlich
About David L. Robbins
David L. Robbins was a remarkable person who held the respect, confidence, and friendship of his colleagues, in demanding fiscal and administrative roles. His perspective, empathy, and good judgment helped IU's Indianapolis and Southeast campuses define their missions and identities, for their regions and their state. Robbins served in the United States Navy from 1951-1955, and was a 1957 graduate from Indiana University Bloomington where he earned his BS in Business Management and Administration. He later earned a graduate degree from the University of Louisville.
From 1967 to 1986, as director of administrative affairs at IU Southeast, Robbins oversaw budgeting matters, planning, and development of physical facilities, athletics, human resources, registration, safety, financial aid, and other areas. He also taught for IU's School of Business. Robbins was actively involved in relocating the Southeast campus from Jeffersonville to New Albany. Five years of planning and orchestrating, with impressive results, led up to the very complex move in 1973. Six years later, he was named the Outstanding Administrative Employee at the campus.
Robbins then served as Vice Chancellor for Budgeting and Fiscal Affairs at Indiana University Purdue University Indianapolis, beginning in 1986. While there, he oversaw the $650 million annual budget and was in charge of payroll for more than 11,500 employees, the accounting department and the bursar's office. He was also entrusted to coordinate the adoption of Responsibility Center Management; IUPUI was IU's first campus to implement the innovative administrative approach. The success of that venture was further evidence of Robbins' ability to plan effectively and lead cooperatively.
Robbins' community service activities included the chairmanship of the Clark County Foundation and the presidencies of the local United Way and Rotary Club. He headed the Military Service Academy Selection Committee for Indiana's 9th Congressional District. Robbins served as director for the Indianapolis Exchange club and president of the Prestwick I Neighborhood Association. He was also an active member of the Garfield Park United Church of Christ.