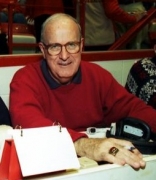 Awards
Bicentennial Medal (2019)
IU Foundation President's Medallion (2012)
IU Foundation President's Medallion (2002)
E. Ross Bartley Award (1994)
About Max E. Skirvin
Although Max Skirvin's broadcast career started in 1947, between high school and college, it would be another 20 years before Max became the play-by-play voice of the Indiana University network in 1967. Skirvin's first broadcast experience was at WUSA, the first radio station in Bloomington. He worked part-time at the station until it was sold in 1950.
Upon returning from ROTC summer camp later that year, Skirvin was asked by IU athletic director Tom Miller to broadcast IU football and basketball games during his senior year. After graduation and two years in the United States Air Force, Skirvin joined the staff at WWTV and WTTS in Bloomington. His duties involved broadcasting high school and college games and directing some IU basketball telecasts. In 1959, Skirvin joined the IU Alumni staff and promoted the radio network by involving the alumni. He did no on-air work until the fall of 1967, when IU went to the Rose Bowl.
Over the next 30 years, Skirvin broadcast 333 consecutive IU football games and nearly 1,000 Hoosier basketball games. His football duties included five seasons as play-by-play announcer and 25 more seasons as color commentator after the network became a commercial venture. Skirvin was named a Sagamore of the Wabash in 1988 and was presented the E. Ross Barley Award in 1994, by Indiana University.