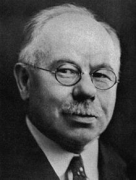 Awards
National Academies (1923)

National Academy of Sciences
About Carl H. Eigenmann
Carl Eigenmann received a B.S. (1886), an M.A. (1887), and a Ph.D. in ichthyology (1889) from IU Bloomington. He was appointed professor of zoology for a trial year in 1891, and was given the salary of a full professor and granted an assistant in 1892. He became the director of the Biological Survey of Indiana, established in 1892 by the Indiana Academy of Sciences. He was named dean of the reorganized IU graduate school in 1908. He left Bloomington in 1926, passing away less than a year later on April 24, 1927, in Chula Vista, California.
Eigenmann was a prolific writer, producing 228 publications over the span of his career. He was a fellow of the American Association for the Advancement of Science (1899), an honorary curator of fishes at the Carnegie Museum until 1918, and elected to the National Academy of Sciences (1923). He was a member of the American Geographical Society, the American Microscopical Society, the American Society of Anatomists, the American Zoological Society, the Indiana Academy of Sciences, the Society of American Naturalists, the Washington Academy of Sciences, the Western Naturalists' Association, the Western Zoological Society, and Sigma Xi and Phi Beta Kappa Societies. He was an honorary member of the California Academy of Sciences and the Sociedad Ciencias Naturales (Bogota, Colombia). He received grants from the Elizabeth Thompson Science Fund, the American Association for the Advancement of Science, and the Carnegie Institution of Washington.
At the memorial service held for Eigenmann at IU, Professor William J. Moenkhaus reflected on a dinner attended by 30 of Eigenmann's former pupils, "It was most interesting to see that each man acknowledged that the greatest debt he owed him was that he had taught him to be self-reliant and independent in his work. Dr. Eigenmann taught by example."