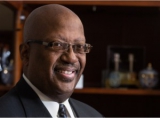 Awards
IUAA President's Award (2012)
About Vernon A. Williams
Vernon A. Williams is President and CEO of Seventh Son Media, Inc., a communications firm in Indianapolis. He is also a member of the Executive Committee of the Indiana Black Expo Inc. Board of Directors. Williams is a published author, playwright, and instructor in Radio and Acoustics at the Broad Ripple Magnet High School for the Arts and Humanities.
An at-large member of the Executive Council of the Indiana University Alumni Association, Williams is also national President-elect of the I.U. Neal-Marshall Alumni Club. An advocate for students founded Word of Mouth, Inc., a youth literacy program.
A native of Gary, Indiana, Williams earned his bachelor's degree in Journalism from Indiana University-Bloomington. He received a Master of Arts in Communications from Purdue University - Calumet and will complete a master's degree in Educational Administration from Ball State University in December 2011. Williams is a graduate of Gary Roosevelt High School.
He is Vice-President of the Indianapolis Chapter Indiana Black Expo and an executive member of the Indianapolis Association of Black Journalists. Williams is a member of the Indianapolis Alumni Chapter of Kappa Alpha Psi Fraternity; the National Alliance of Black School Educators; and the Association of Career Technical Education. He is a charter member of the Lake County Association of Black Communicators and the Northwest Indiana Chapter Neal-Marshall Alumni Club.
His literary works include "That Black Men Might Live," "sonnets for my sistahs," "The African American Guide to Hepatitis C" and "Memoirs of Madison Street." Plays written and produced by Williams are "anniversary" "playin' for keeps," "a woman's place," and "do right men." Williams is a former columnist/reporter for the Gary Post-Tribune and radio personality for both WLTH-AM and WGVE-FM in Gary.