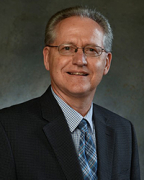 Awards
Bicentennial Medal (2020)
IU Southeast Distinguished Alumni Award (2014)
IUAA President's Award (2010)
About Douglas Bates
Douglas Bates earned his bachelor's degree in history in 1989 at IU Southeast and his law degree from the IU School of Law-Indianapolis in 1992.
He became active on the IU Southeast Alumni Board of Directors beginning in 1998, serving as president in 2000-01 and 2007-09. He remains active on the board as past president, helping to organize events, participate in advocacy efforts, and execute fundraising projects. He is currently the IU Southeast representative to the IUAA Executive Council.
An attorney in Jeffersonville, Indiana, Bates lives in nearby Charlestown with his wife, Elizabeth. Bates received the IU Bicentennial Medal in June 2020 in recognition of his distinguished service to Indiana University Southeast.