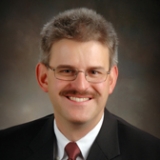 Awards
Bicentennial Medal (2020)
IU South Bend Distinguished Alumni Award (2013)
IUAA President's Award (2010)
About Christopher L. Craft
Christopher L. Craft earned a Bachelor of Science degree in management from IU in 1989. He attended IU South Bend. He received a master's degree in business administration and finance from the University of Notre Dame.
He is chairman-elect of the IU Alumni Association's Board of Managers. Craft is the past president of the IU South Bend Alumni Association and past chairman of the campus's scholarship campaign. He has served on the IU South Bend Business School Advisory Board and the campus's Chancellor's Advisory Board. Craft received the IU South Bend Distinguished Business School Alumni Award in 2010, and the IUAA President's Award. In 2020, he received the Bicentennial Medal for his distinguished contributions to Indiana University.
Craft is senior vice president and regional manager at Lake City Bank in Mishawaka, Indiana, where he lives with his wife, Kelly, and their three children.