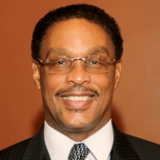 Awards
Bicentennial Medal (2019)
IUAA President's Award (2010)
About Charles Hughes
Charles Hughes, executive director of the Gary, Indiana, Chamber of Commerce, graduated from IU in 2000 with a bachelor's degree in general studies. He attended IU Northwest. Hughes also attended the Midwestern School of Broadcasting and was the first black sports director and play-by-play announcer for radio station WWCA in Gary.
He is a past member-at-large for the IU Alumni Association Executive Council. Hughes also served as an officer for the IU Northwest Alumni Association board of directors and as board member for the IU School of Continuing Studies Alumni Association. He is currently a member of Hoosiers for Higher Education.
Hughes and his wife, Danita, reside in Valparaiso, Indiana, and have three daughters.