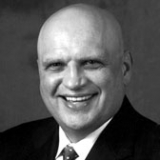 Awards
IUAA President's Award (2009)
About Daniel M. Bade
Daniel Bade earned his bachelor's degree in biological sciences in 1974 and doctorate in dental surgery in 1978, both from IU. He attended IU Bloomington for his undergraduate degree and IUPUI for his DDS degree.
A dentist with a private practice in St. John, Indiana, Bade has taught dental courses at several universities, including the IU School of Dentistry Auxiliary Program at IU Northwest. He is a longtime supporter of fundraising efforts of the School of Dentistry and of the school's Career Day.
A lifetime member of the IUAA, Bade served from 1982 to 1984 as the president of the Northwest Indiana Chapter, now known as the Lakeshore (Indiana) Chapter. He also served on the IUAA's Executive Council as the School of Dentistry representative from 1983 to 1989.
Bade lives in St. John, Indiana, and has two daughters.