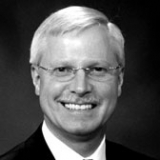 Awards
IUAA President's Award (2009)
About Michael B. Engels
Michael Engels earned his master of business administration degree from IU in 1995. A financial adviser at Edward Jones in Portland, Indiana, he attended IPFW.
Engels served on the IPFW Alumni Board from 1999 to 2007. As president of the board from 2004 to 2006, he helped to grow the Mastodon Roast, a major IPFW alumni event, from about 100 attendees to more than 300. Engels also launched an effort to group board members into teams to take on tasks such as increasing membership in the Alumni Association.
As a graduate of the Doermer School of Business and Management Sciences at IPFW, Engels volunteered for service on the school's Alumni Advisory Council. He helped to plan events, encourage philanthropy, and coordinate the Business School's Distinguished Alumni Award at Commencement.