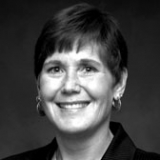 Awards
IUAA President's Award (2009)
About Mary Beth Ryan
Mary Beth Ryan, assistant director of alumni relations at Culver (Indiana) Academies and director of the Culver Parents Association, graduated in 1999 with a bachelor's degree in general studies. She attended IU South Bend.
From 2004 to 2006, Ryan was executive director of the Mishawaka (Indiana) Business Association. She currently serves as a member at large on the IUAA Executive Council. A lifetime member of the IUAA, Ryan is president of the Marshall County Alumni Chapter of the IUAA and a member of the IU Parents Association Advisory Board.
She served the IU South Bend Alumni Association as president, past president, and as a member of the board of directors. From 2004 to 2006, Ryan was a member of the IU South Bend Chancellor's Advisory Board.