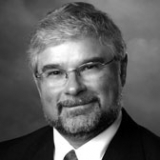 Awards
IUAA President's Award (2009)
About Rev. Mark D. Wesler
The Rev. Mark Wesler earned his Bachelor of General Studies degree from IU in 1988. He attended IU East.
Wesler served on the IU East Alumni Association board of directors from 2000 to 2006. He was president of the board from 2005 to 2006. Wesler was ticket sales coordinator for IUEAA's Get Away Weekend program and was a top seller of Alumni Association memberships at the campus's annual Senior Shindig. For a number of years, he delivered the invocation at the campus's Commencement ceremony.
Although Wesler moved from the Richmond area in 2006, he has remained a supporter of IU East and makes regular visits to the campus. In 2008, he began a three-year term as an at-large member of the IUAA's Executive Council. Wesler, a life member of the IUAA, is senior pastor at Christ United Methodist Church in Westfield, Indiana.