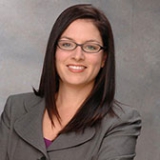 Awards
IUAA President's Award (2009)
About Jenny Wolf
Jenny Wolf, director of university communications and special assistant to the chancellor at IU Southeast, earned her bachelor's degree in 2000 with a major in communication and speech. She attended IU Southeast. Previously, she was the director of the campus's IT Support and Communication.
Wolf also previously served as interim director of the IU Southeast Alumni Affairs Office. In that role, her duties included organizing the campus's alumni events, Commencement, and managing alumni memberships. In addition, Wolf planned and implemented the Board of Trustees alumni reception at IU Southeast and coordinated the campus's Distinguished Alumni Award and Outstanding Alumni Awards luncheons.
Under her leadership, the annual Fall Festival garnered the largest crowd ever, and an IU Alumni Day at the Kentucky State Fair was created, which contributed to a considerable increase in new alumni memberships. In 2008 Wolf received an Alumni Award of Excellence from the IU School of Arts and Letters and in 2009, the IUAA President's Award.