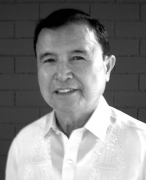 Awards
IUAA President's Award (2009)
About Oscar C. Ventanilla
Oscar Ventanilla completed a master's degree in business administration in 1961 and a master of laws degree in 1962. He returned to the Philippines to begin his law practice, where he specializes as a tax consultant with Philippine Airlines.
Ventanilla has been involved with IU alumni events and activities since 1983, when he served as president of the Philippines Chapter of the IUAA for one year. In 2000 he became president of the IU Alumni Foundation Philippines Inc., the newer incarnation of the chapter, which revived IU alumni activities in that part of the world and where he continues to serve as leader.
He and his wife, Carmen, along with other alumni, organized the donation of school supplies following the devastation of Typhoon Reming in 2008. Under his leadership, the chapter received IUAA's Circle of Excellence award in 1999, 2000 and 2007.