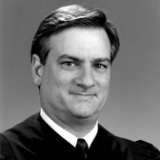 Awards
IUAA President's Award (2008)
About Gary L. Miller
Gary Miller finished his bachelor of arts degree at IU in 1977 with a major in political science. He completed his law degree at the IU School of Law, Indianapolis, in 1980. He currently is an associate presiding judge for the Marion County (Indiana) Superior Court.
Miller has served IU as a board member and officer of the School of Law, Indianapolis Alumni Association since 1993. He was president of the group in 2000 and currently serves as chairman of the Committee for Law Student Relations. He also serves as an adjunct professor for the school.
Miller is an active member in the Indianapolis Bar Association, having served as president of the group in 2003. He is also actively involved with the Indianapolis Bar Foundation and Indiana State Bar Association, and he serves on the American Bar Association's committee on ethics and professionalism.