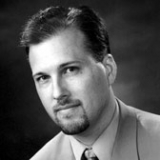 Awards
IUAA President's Award (2008)
About Eric J. Steenman
Eric Steenman graduated in 1993 with a bachelor of science degree in business management and administration. He attended IPFW.
Steenman is assistant vice president in commercial lending at Lake City Bank. He is a board member for the Northeast Indiana Chapter of the IU Alumni Association and chairs the membership committee. Steenman facilitated the 2007 and 2008 Economic Forecast events at IPFW with the IU Business Outlook Panel.
He is a former board member with the IPFW Alumni Association and served as the IPFW representative on the IUAA Executive Council from 2005 to 2008. His volunteerism extends to the Fort Wayne Community Development Corp., where he is on the finance committee.