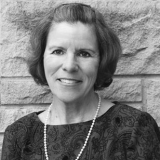 Awards
IUAA President's Award (2008)
About Paula A. Griesel
Paula Griesel is a retired elementary-school teacher who earned a master's degree in education in 1967, and a Reading Specialist Certificate in 1982, both from IU.
Griesel taught reading for many years with both the Lake and Porter County school corporations in Indiana. A strong advocate for children, especially those with special needs or in at-risk situations, Griesel completed her teaching career at Tri-North Middle School in Bloomington, Ind.
Griesel is a former member of the IUAA Executive Council, and has served in leadership positions with three different IUAA chapters, including the Northwest Valley Arizona (Sun Cities) Chapter, the West Central Indiana (Lafayette) Chapter, and the Monroe County (Bloomington) Chapter. She is a past president of both the Northwest Valley and West Central Indiana Chapters and served on the board of directors for the Monroe County Chapter.
As the Monroe County Chapter's student recruitment chairwoman, Griesel has been active as an IU Bloomington alumni student recruiter for many years and received the chapter's Outstanding Alumni Volunteer Award in 2006. In addition, Griesel is an officer with Phi Delta Kappa and the Indiana State Chapter of the International Reading Association.