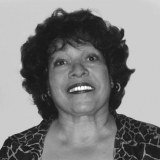 Awards
IUAA President's Award (2008)
About Oneita S. Phillips
Oneita S. Phillips, also a President's Award recipient, graduated from IU in 1977 with a master's degree in education. She began her teaching career with the Indianapolis Public School system and finished with the Floyd County Schools in New Albany, Indiana, after 36 years of service. She is currently employed by the U.S. Department of Agriculture.
In 2004, Phillips helped found the Kentuckiana Chapter of the Neal-Marshall Alumni Club. With her leadership, the club received the Chapter of the Year award twice, notably for its successful scholarship program. She currently serves as secretary for the national Neal-Marshall Alumni Club.
Phillips belongs to Delta Kappa Gamma, City of Louisville Mayor's Prayer Breakfast Committee, and the Business and Professional Women of New Albany where she has been president and district director.