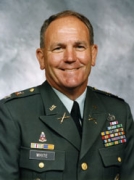 Awards
IU East Alumni Hall of Fame (2019)
IUAA President's Award (2006)
About James R. White
Retired Col. James R. White, of Indianapolis, was a member of the first graduating class at IU East. A native of Richmond, Ind., he earned a bachelor's degree in criminal justice studies from IU East in 1979 and a master's degree in education from Butler University in 1982.
He is one of the founding members of the campus' constituent society, established in 1989. He is a member of the IU East Alumni Association's board of directors and has been instrumental in the restructuring and redefining of the association's vision and mission. He is a life member of the IUAA. His military education includes the Army Combined Arms Services Staff School, the Army Command and General Staff College, and the Army War College, where he studied at Tufts University as an Army Fellow at the Fletcher School of Law and Diplomacy.
He has served his state and country in uniform for more than 40 years. He is now a clinical lecturer for the School of Public and Environmental Affairs at Indiana University-Purdue University Indianapolis.