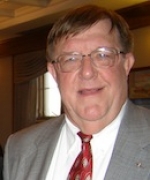 Awards
Z.G. Clevenger Award (2013)
IUAA President's Award (1999)
About Jack W. Hienton
Jack W. Hienton came to Indiana University in the fall of 1967 where he was a freshman Defensive Tackle on the Rose Bowl team. He earned two varsity letters for football and graduated in 1971 with a business degree.
Upon graduation, Jack immediately became a member of the Varsity Club, in addition to the Wells House Society and the Woodburn Guild. He then became the President of the I Association from 2011 to 2013, and then sat on its board after his term. He has also been on the board for the Alumni Association for chapters in Denver and Columbus, OH. He was presented with the IUAA's President's Award in 1999 and became a member of the Presidents Circle in 2011.
Jack is currently the General Manager for Coffman Truck Sales in Aurora, IL with previous positions at Freightliner Corporation and Volvo Truck Corporation.