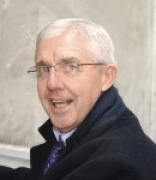 Awards
IU South Bend Distinguished Alumni Award (2003)
IUAA President's Award (1999)
About Jonathan W. Housand Jr.
Jonathan Housand is the Program Officer of the Elkhart County Community Foundation, having retired as President of Ameritrust National Bank (now KeyBank) based in Elkhart, Indiana, and as Senior Vice President of its parent company First Indiana Bancorp. Housand also serves on the Elkhart General Hospital Foundation Board of Directors as the Executive Director. He is a longtime volunteer of the St. Pius X Church in South Bend, IN.
Housand was the recipient of the 1999 Distinguished Alumni Award from Indiana University - South Bend.