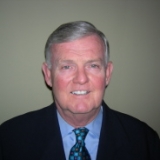 Awards
Bicentennial Medal (2019)
Z.G. Clevenger Award (2015)
IUAA President's Award (1999)
About Phillip K. Westfall
Phil Westfall came to Indiana University in the fall of 1962 for Head Football Coach Phil Dickens. At IU Phil played Quarterback and Kicker for the 1962, '63 and '64 seasons.
After he earned his Bachelor of Science degree from Indiana University in 1965, Phil went on to be a leading member and ambassador for the Alumni Association. Through his years of service he held multiple positions including the I Association Board of Directors, Varsity Club of Indianapolis Chairman, and previously the President of Alumni Club of Chicago.
Phil currently is the President and CEO of his own Marketing Consulting firm known as Westfall Associates. He previously held positions as Vice President of National Accounts for Jensen Car Stereo from 1977-1987 and Vice President of Marketing for Pettibone Corporation from 1987-1998, both located in Chicago, IL.