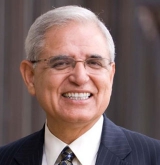 Awards
IUAA President's Award (1996)
About Rogelio Dominguez
Rogelio "Roy" Dominguez, a former Lake County deputy prosecutor and Indiana State Police trooper, has a private law practice in Merrillville, IN. He was the sheriff of Lake County from 2002 to 2010.
Dominguez earned a B.A. in Sociology from Indiana University - Northwest and later a J.D. from Valparaiso University. After graduation, he entered the law field, focusing primariliy on criminal defense, DUI/OWI, traffic, motor vehicle accidents, and personal injury. Dominguez was legal counsel for the Lake County Assessor's Office, Special Counsel for the Indiana Department of Revenue, Corporate Counsel for the City of East Chicago, School Corporation Counsel for the River Forest Community School Corporation in Hobart, he served as Chairman of the Board and then Administrative Law Judge of the of the Indiana Workers' Compensation Board in Indianapolis. Currently, he is the president of the Hispanic Organization Promoting Excellence (HOPE) which dedicates itself to mentoring and assisting young people to continue their quest for higher education.
Throughout his career, Dominguez has been recognized with various prestigious awards such as the Sagamore of the Wabash and the IUAA President's Award.