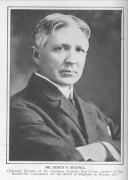 Awards
Honorary Degree (1924)

LL.D.
Doctor of Laws
Centennial Convocation
Bloomington, Indiana
Presenter: William Lowe Bryan
About Ernest Percy Bicknell
Ernest P. Bicknell graduated from IU in 1887. The book "Pioneering with the Red Cross" is a record of his life, which began with nespaper work and an unpaid charity post, and culminated in world-wide humanitarian service.
His work as national Director of the American Red Cross, director-general of the civilian relief department, and other posts took him to many foreign countries in need of relief and he received decorations and honors from foreign rulers and governments for his work.
In 1959, Indiana University named a Married Student Housing building in his honor.