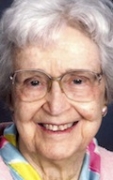 Awards
IUAA President's Award (1991)
About Dorothy R. McCrea
Dorothy McCrea was an IU alum and the widow of Robert McCrea, a former trustee of the university. She graduated from Indiana University in 1938, and received the Mortar Board and lettered on the varsity rifle team all four years.
She remained connected to the university, actively participating in the IU College of Arts and Sciences Alumni Chapter (member of Board of Directors), Tri Kappa, Conversation Club, and the IU Alumni Club of Naples. She also was active in the Daughters of the American Revolution, Indiana Soldiers' and Sailors' Children's Home (member of Board of Trustees), the Community Foundation of Bloomington and Monroe County (member of Board of Directors), Bloomington Hospital Fundraising, and the Nature Conservancy of Naples, FL.
McCrea received the IUAA President's Award for her longtime support of IU in 1991.