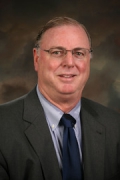 Awards
IUAA President's Award (1990)
About James H. Stephens
James H. Stephens, Ph.D., M.H.A., FACHE, is an assistant professor at the Jiann-Ping Hsu College of Public Health of Georgia Southern University in Statesboro, GA. He is also the program director for the school's graduate program in health administration. Stephens' research interests include rural healthcare systems, disparity issues in rural communities, CEO leadership development and succession planning, healthcare governance, strategic planning, and new healthcare delivery models. His courses cover the topics of healthcare finance and economics, leadership, strategic planning and marketing, and communication in healthcare organizations.
Stephens holds a B.S. and a M.H.A. from Indiana University, and a Ph.D. from Central Michigan University. He is a fellow in the American College of Healthcare Executives (ACHE) and a Paul Harris Fellow in International Rotary Club. Stephens has held senior executive positions in large hospital/medical centers and health systems for 25 years, with 18 years at the President and CEO level. Before joining the Georgia Southern University faculty, he held faculty/staff positions at the University of Kentucky, Ohio University, University of Indianapolis, and Butler University. He also served on numerous healthcare and civic boards including the Kentucky and Indiana Hospital Associations, Chamber of Commerce, United Way, Boy Scouts, and the International Rotary Club.
Throughout his career, Stephen has won many awards, including the Excellence in Service at Ohio University, Sagamore of the Wabash (highest award from the Governor of Indiana), Kentucky Colonel (highest award from the Governor of Kentucky), Indiana Governor's Award for Volunteerism, Indiana University Alumni Association President's Award, Lincoln Trail Red Cross Award, and Equal Opportunity Award of Merit by the Urban League.