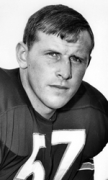 Awards
Z.G. Clevenger Award (2020)
IUB Athletics Hall of Fame (2008)
About Don Croftcheck
Don Croftcheck (BS '68) was a talented two-way football player for the Hoosiers in the early 1960s who went on to play for three teams in four years in the NFL.
Don was an All-State high school football standout in western Pennsylvania who came to IU and starred as both a linebacker and left guard for Coach Phil Dickens. After earning third-team All-Big Ten and All-America honors as a junior in 1963, he followed that up by earning first-team All-Conference and All-America accolades as a senior. Following his senior season he earned invitations to four All-Star games, including the College All-Stars and the Blue Grey game.
Croftcheck was drafted by Washington and spent two years in the nation's capitol and then enjoyed stints in New Orleans and Chicago before a knee injury ended his playing career. He returned to western Pennsylvania and taught for two years before changing professional courses. He ultimately started a successful steel machine company, Allison Custom Fabrication, which employed as many as 75 people that he ran until his retirement.
While he's more than 50 years removed from suiting up for the Hoosiers, Croftcheck has continued to be an active and generous supporter of Indiana University Football and IU Athletics. The Don Croftcheck Team Room, which is located in the North End Zone Facility, is one of the finest team meeting spaces in the Big Ten.
Don and his wife, Betty, have three children (Scott, Suzanne and Brian) and eight grandchildren.