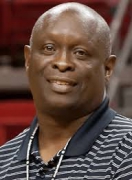 Awards
IUB Athletics Hall of Fame (2009)
About Steve Downing
Steve won three basketball letters from 1971-73. He was named Indiana and Big Ten Most
Valuable Player in 1973 after leading the Hoosiers to the Final Four of the
NCAA championship. Steve was first team All-Big Ten in 1973 after averaging 20.1
points and 10.6 rebounds. He averaged 15.1 rebounds in 1972, second best mark
in IU history for a season; ranks fifth in career rebounds with 889. Steve played professional
 basketball for two years with the Boston Celtics and served as IU Associate 
Athletic Director for 20 years.