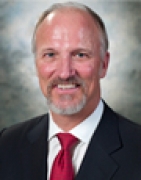 Awards
Kelley School of Business Distinguished Entrepreneur (2012)
About Jerry W. Throgmartin
Jerry W. Throgmartin was Executive Chairman of hhgregg, Inc., one of the nation's leading and fastest growing retailers of home appliances and consumer electronics.
Throgmartin joined the company in 1975 and held positions including store manager, district manager, advertising director, and Vice President of Store Operations before becoming President and Chief Operating Officer in 1988. Under Throgmartin's leadership, the company has expanded from roughly a dozen stores to include more than 190 locations.
In 1999 Throgmartin became Chairman and Chief Executive Officer in addition to President and continued to serve as Chairman and CEO from 2003 to 2009. He served as Executive Chairman since 2009 and as a Director since 1988.
Throgmartin also was a Partner of Cardinal Equity Partners. He served as President of the IU Simon Cancer Center Development Board, a trustee of the University of Indianapolis, and as a board member of LDI Ltd., LLC; Throgmartin-Henke Development; and Hulman & Companies. Throgmartin and his wife Peggy have endowed a chaired position in oncology at the IU Simon Cancer Center.