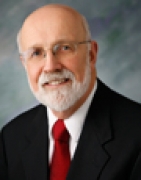 Awards
Kelley School of Business Distinguished Entrepreneur (2009)
About Charles J. Clifford
Charlie Clifford is the co-founder of Tumi, Inc. and served as CEO for many years before finishing his career heading up Tumi's international business. A true entrepreneur, Charlie launched Tumi in 1975 with a partner as a importer of leather bags from Colombia with an investment of $10,000. Today, Tumi is the leading brand of prestige luggage, business cases, and accessories worldwide. Tumi is sold in 60 countries and has a dedicated following among frequent travelers, including many international executives, famous athletes, and celebrities from the entertainment industry.
Clifford graduated from Indiana University in 1965 with an BA in English and earned his MBA in marketing from the Kelley School in 1967. He then spent two years in an experimental Peace Corps program in Peru designed for MBA's, working as a consultant with small businesses and assisting government agencies with economic development projects. In 1975, after working as a marketing director for an industrial equipment subsidiary of a large food retailer, he started Tumi and named the company after a Peruvian pre-Colombian god which was the symbol of the department, where he lived when serving in the Peace Corps.
Since his retirement from Tumi in 2004, Charlie has consulted with various companies in the leather goods sector and is a principal at Compass Partners International, a management firm which partners with a select group of accessories and related consumer products companies in order to develop their business in the U.S. market.
Clifford is a member of the board of directors at Aid to Artisans, a non-profit organization which creates economic opportunities for artisans around the world to build profitable, sustainable businesses, inspired by handmade traditions. He is a member of the President's Council of ACCION International and the Dean's Council of the Kelley School of Business. Clifford also served on the board of directors for the Travel Goods Association from 1996 to 2003.
Clifford was recognized in 2005 by the Travel Goods Association for excellence and outstanding contributions to the travel goods industry, the industry's associations, and the community. He also received the President's Award from the American Luggage Dealer's Association in 1994.
Charlie and Cricket (his wife of 42 years) divide their time between their home on Cape Cod and an apartment in New York's Greenwich Village. They have two grown children: Mark, who lives with his wife and two daughters in New Jersey; and Tara, who lives in Boston.