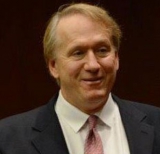 Awards
McKinney School of Law Distinguished Alumni Award (2013)
Kelley School of Business Distinguished Entrepreneur (2008)
About Mark A. Roesler
Roesler, a 1982 IU graduate with both an MBA and law degree, founded international business and licensing agency CMG Worldwide in 1982 and serves as its chairman and chief executive officer. CMG is the exclusive business agent for more than 200 of the world's most sought-after and recognizable celebrities, including entertainment giants Marilyn Monroe, James Dean and Sophia Loren; sports legends Babe Ruth, Jackie Robinson and Vince Lombardi; musical entities Chuck Berry and Ella Fitzgerald; and historical figures Amelia Earhart, Rosa Parks and Malcolm X.
An entrepreneur at heart, Roesler started his own roofing company to put himself through college, first as an undergraduate at DePauw University. Roesler then became a licensed real estate broker while pursuing graduate degrees at Indiana University.
In 1981, Roesler's talents were secured to protect Norman Rockwell's artwork when he signed on with Curtis Publishing, long-time supplier of The Saturday Evening Post and licensing manager of the painter's artwork after his death in 1978. Through his attentive efforts to protect the artwork, Roesler discovered that families of famous deceased personalities were in need of the same legal defense to safeguard their loved ones' names and likenesses. As Roesler diligently created the groundwork for a company that could take on such a momentous and unheard-of task, he was selected as the business agent for the Elvis Presley estate.
Today, Roesler is internationally recognized as the world's foremost authority on intellectual property rights involving celebrities, credited with helping to establish guidelines that delegate the control of a celebrity's image or likeness. He serves as a member of the Board of Visitors of the IU School of Law-Indianapolis, the National Board of Directors of the American Arbitration Association and the Board of Directors of The National Lampoon.