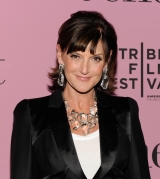 Awards
Kelley School of Business Distinguished Entrepreneur (2004)
About Jane Ford-Petrin
Ford-Petrin received her bachelor's degree from the Kelley School in Marketing and Finance in 1970, and in 1976 founded Benefit Cosmetics with her identical twin, Jean Ann Ford, a graduate of Indiana University's School of Education. Established as a unique, San Francisco beauty boutique, Benefit Cosmetics has since grown into a global beauty brand available at over 1,000 counters in more than 25 countries.
Ford-Petrin spearheads Benefit's management, product development, financial and international development teams. Her financial and creative sensibilities have honed her abilities as a negotiator, problem solver and business manager for the company. In 2004, Ford-Petrin received the Kelley School Distinguished Entrepreneur Alumni Award.
Ford-Petrin and her sister, Jean Ford, have a long history of giving back to Indiana University. In 2004, the Ford sisters established the Jane and Jean Ann Ford Scholarship, a $600,000 endowment whose income supports three scholarships for entrepreneurial Kelley School undergraduate students who are working. Ford-Petrin and her husband Chris Petrin have given an unrestricted gift of $100,000 to the Kelley School of Business in 2008.