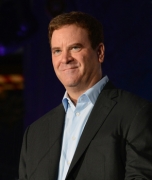 Awards
Kelley School of Business Distinguished Entrepreneur (1998)
About Todd R. Wagner
Todd Wagner is founder and Chief Executive Officer of the Todd Wagner Foundation and 2929 Entertainment. Prior to that, Wagner co-founded and was CEO of Broadcast.com, leading it to one of the most successful IPO's in history and selling the company to Yahoo! for $5.7 billion in July 1999. At the time of its sale, Broadcast.com was the leading Internet destination for multimedia programming. In November 1999, Wagner turned down the opportunity to serve as Chief Operating Officer of Yahoo! to pursue other interests.
Wagner created the Todd Wagner Foundation to improve the lives of at-risk children and inner-city entrepreneurs. The Foundation supports several programs.
Wagner was named 2002 Social Entrepreneur of the Year by the Center for Nonprofit Management. He also serves on the National Board of Directors of the Inner-City Games (www.innercitygames.org), a foundation championed by Arnold Schwarzenegger that provides year-round sports, education and technology programs for at-risk children in the nation's inner cities. Wagner's commitment to the Inner City Games earned him the distinguished honor of Man of the Year in 2000. In July 2001, Wagner launched the Inner-City Games program in Dallas, now the 15th city to join this national organization.
Wagner created 2929 Entertainment to leverage his expertise in digital technology and his passion for the entertainment business. In November 2001, Wagner and his former broadcast.com partner, Mark Cuban, acquired Rysher Entertainment and its substantial film and television programming library, including syndication rights to shows such as 'Hogan's Heroes' and 'Sex and the City,' and 'Star Search.' A new version of Star Search, co-produced by 2929, premiered in January 2003 on CBS.
2929 Entertainment also holds interests in Immortal Entertainment, a diversified music and film production company in Santa Monica; Magnolia Pictures, a Denver-based movie exhibition company; and Lions Gate Entertainment, a global entertainment company whose recent releases include the Oscar-winning 'Monster's Ball', 'Frailty' and 'Confidence'. 2929 Entertainment co-financed the film 'Searching for Debra Winger,' which was honored at the 2002 Cannes Film Festival, and is currently co-producing the thriller 'Godsend,' along with Lions Gate. 'Godsend,' starring Robert De Niro, Greg Kinnear, and Rebecca Romjin-Stamos, is set for release in October 2003. It is expected that 2929 Entertainment will continue to acquire content and partner with movie studios and other industry leading partners on film and television projects.
Todd Wagner co-founded Broadcast.com in September of 1995, and as chief executive officer led the company to becoming the leading destination for audio and video programming on the Internet. Under Wagner's leadership, Broadcast.com grew in less than four years to more than 350 employees in 11 offices throughout the United States and Canada. Wagner structured the company's private and public financings, including obtaining private financing from companies including Motorola, Intel, Yahoo! and Premiere Radio Networks. After Broadcast.com was acquired by Yahoo!, Wagner led the division as Yahoo! Broadcast until May 2000.
Wagner was recently appointed to the Board of Trustees of the American Film Institute, a cultural arts organization dedicated to advancing and preserving the art of film, television and other forms of the moving image. He has delivered speeches at dozens of business and technology conferences, has appeared on CNBC, CNN and CSPAN and has been featured in leading publications including the Wall Street Journal, Forbes and the New York Times. Prior to Broadcast.com, Wagner had a successful legal career with the national firms of Akin, Gump, Strauss, Hauer & Feld and Hopkins & Sutter. He is a graduate of Indiana University and the University of Virginia School of Law, and was a licensed CPA in the State of Texas.