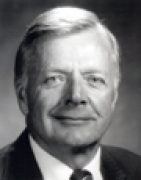 Awards
Kelley School of Business Distinguished Entrepreneur (1997)
About Michael R. McClurg
Michael R. McClurg is president, CEO and director of DDx Inc., a Colorado based company that researches, develops, manufactures and sells biotechnology-based detection and diagnostic systems for use in laboratory and non-laboratory field environments.
Mr. McClurg was named president and CEO of DDX in 1993. He successfully led the company to tremendous growth, through a reorganization of its business, management and financial affairs, development of new products, negotiation of a joint venture, hiring of new talent, and raising of capital.
In addition, Mr. McClurg is president, CEO and director of M.R. McClurg & Co., Inc., which provides investment and merchant banking services to companies, and manages the private and public investments made by the McClurg family.
Mr. McClurg received a BS in marketing and finance from IU in 1962. He is the founder and chairman of the Denver Entrepreneurship Academy (DEA), an affiliate of the National Entrepreneurship Foundation of Bloomington, Ind. The DEA is a nonprofit corporation which trains achievement-oriented university students to start and finance leading-edge companies. Mr. McClurg serves on the Board of Advisors of the Indiana University Center for Entrepreneurship and Innovation.