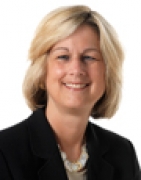 Awards
Kelley School of Business Academy of Alumni Fellows (2012)
About Mary E. Tuuk
Ms. Tuuk was recently named Market President of the Company's Western Michigan market and transitioned into that new role effective January 1, 2012. In that role, she has responsibility for the retail, business banking, investment advisors, and mortgage and commercial lines of business for the market. The Company has $111 billion in assets, and operates 15 affiliates in Ohio, Kentucky, Indiana, Michigan, Illinois, Florida, Tennessee, West Virginia, Pennsylvania, Missouri, Georgia and North Carolina.
Ms. Tuuk previously served in a variety of risk management roles, including service as the Bancorp's chief operational risk and compliance officer, and as director of the Risk Policy group, overseeing the Bancorp's risk policies.
Ms. Tuuk also previously served in a variety of senior management positions for Fifth Third Bank (Western Michigan). Before joining Fifth Third Bank, she served as senior vice president, corporate secretary and chief legal counsel for Old Kent Bank until Fifth Third Bank acquired the company in 2001.
She received bachelor's degrees in Business and Music from Calvin College in Grand Rapids, Michigan. She received her master's degree in Business Administration and Juris Doctorate from Indiana University.
In 2008, 2009, 2010 and 2011, Ms. Tuuk was named one of the 25 Women to Watch in Banking by US Banker Magazine. She is a member of the Financial Services Roundtable Financial Stability Industry Council for Chief Risk Officers and serves as chair of the Sub-Committee on Risk Management for that Council. She also frequently serves as guest lecturer on banking for area universities, including The Ohio State University Fisher School of Business MBA Program. She is a member of the board of directors of Fifth Third Bank (Central Ohio) and a member of the advisory board of Fifth Third Bancorp's Women's Network. Ms. Tuuk serves on the board of directors and Allocations Committee for Cincinnati ArtsWave and serves on the board of directors and as chair of the Development Committee for the Cincinnati Vocal Arts Ensemble. She has sung as a professional soprano in various communities, including with the Cincinnati Vocal Arts Ensemble. She also served during the 2009-2010 academic year on a select faculty/alumni workgroup on the economic crisis for Calvin College, her alma mater. Ms. Tuuk is a member of the state of Michigan Bar Association.