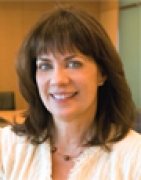 Awards
Kelley School of Business Academy of Alumni Fellows (2011)
About Kathleen M. Pawlus
Kathleen Pawlus is the Americas Vice Chair and Chief Financial Officer for Ernst & Young. The Americas is the largest of Ernst & Young's seven global areas, comprising roughly 40 percent of the global firm. Also a member of the Americas Operations Group and the U.S. Executive Board, she has an influential voice at a very important table.
Pawlus has spent her entire career at Ernst & Young, although she notes, "I've moved around within the organization quite a bit." After nine years in auditing, she transferred to the firm's transactions practice, which deals with mergers and acquisitions. In transactions, she learned to interpret a company's past performance to evaluate its future. She also learned to quickly identify trends, a skill that serves her well as the CFO. After spending time in the firm's Quality organization and leading several business units, she was asked to tackle the Americas CFO position.
Looking to the future is one of Pawlus's chief responsibilities as Americas Vice Chair and CFO. Overseeing finances, information technology, and administration, she makes sure the firm is on stable financial ground, has an effective long-term IT strategy, and has an efficient, satisfied workforce-all in support of the firm's client-serving professionals. She also contributes to Ernst & Young's overall strategic direction.
Pawlus earned a Bachelor of Science degree in Business from Indiana University. She is a Certified Public Accountant and one of the region's representatives on the National Gender Equity Task Force.