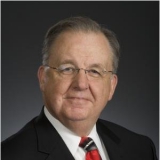 Awards
Kelley School of Business Academy of Alumni Fellows (2011)
About James C. Thyen
James C. Thyen, President & Chief Executive Officer, Kimball International, Inc., joined Kimball in 1966, upon completion of his military service obligations. Subsequently, Mr. Thyen grew his experience and knowledge of the Company across numerous areas, including finance, inventory control, cost management, fleet operations, legal, human resources, administration and information systems.
He has grown his levels of responsibility over the years by serving in various financial, operational, and executive capacities. He joined the Company's Board of Directors in 1982, and has served as Kimball International's President since July 1997. In January 2004, he was appointed Chief Executive Officer.
Mr. Thyen currently holds corporate directorships with Kimball International and with FM Global of Johnston, Rhode Island. He also serves on the Dean's Council of the Kelley School of Business at Indiana University. He previously served on the Advisory Board of Allendale Mutual Insurance Company.
Mr. Thyen was named by the Securities and Exchange Commission (SEC) to serve as Co-Chairman of the Advisory Committee on Smaller Public Companies, formed in December 2004 to assess the regulatory system under the securities laws for small and mid-sized companies, including the impact of the Sarbanes-Oxley Act of 2002. The Committee delivered its final report in April, 2006.
Appointed by Indiana Governor Evan Bayh, he is a former member of the Vincennes University Board of Trustees, serving as Chairman of the Finance Committee, and as a member of the Community College Policy Committee. He is also a past Director of The Catholic Foundation of Southwestern Indiana, Inc., where he served as Chairman of the Board of Trustees. He also served ten years as a Director of Memorial Hospital & Healthcare Center, a regional provider based in Jasper, Indiana. A life-long member of St. Joseph's Church in Jasper, he served as a member of the Finance Committee and has been active in various other church and civic activities.
Mr. Thyen holds a B.S. degree in Finance from Xavier University and an M.B.A. degree from Indiana University.
He and his wife, Pat, live in Jasper, Indiana. They have one married daughter and two grandchildren.