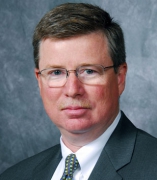 Awards
Kelley School of Business Academy of Alumni Fellows (2010)
About Michael G. Rippey
Michael Rippey was elected President and Chief Executive Officer of Mittal Steel USA, now ArcelorMittal USA, in August 2006. He had been the company's Executive Vice President, Sales and Marketing since April 2005, with direct responsibility for all sales and marketing of light flat-rolled and plate products.
Rippey had been Executive Vice President, Commercial and Chief Financial Officer at Ispat Inland Inc., a predecessor company, since January 2004 and has been an officer of the company since June 1998. Previously, he was Executive Vice President and Chief Financial Officer, with responsibilities for sales, finance, human resources, law, and purchasing.
Rippey joined Inland Steel Company in 1984 and held increasingly responsible positions within the finance organizations at Inland Steel Co. and its former parent company, Inland Steel Industries. The company became Ispat Inland Inc. after its purchase by Ispat International N.V. in 1998, Mittal Steel USA in April 2005, and ArcelorMittal USA with the parent company's purchase of Arcelor in July 2006.
Rippey serves on the Chicagoland Chamber of Commerce Board of Directors, the MSCI (Metals Service Centers Institute) Board of Directors, the Membership Committee of the Olympia Fields Country Club, and the Dean's Council of the Kelley School of Business. He is a Trustee of Children's Home + Aid organization in Chicago and is a member of its Finance and Audit Committees. Rippey also served as a member of the Village Advisory Council for the Chicago 2016 Olympics bid and is a former board member of the Indiana Manufacturers Association and Marian Catholic High School.
Rippey earned a bachelor's degree in marketing from the Kelley School in 1979, a master's degree in banking and finance from Loyola University in Chicago, and an MBA degree from the University of Chicago.