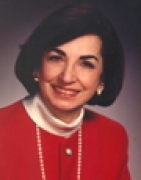 Awards
Bicentennial Medal (2019)
Kelley School of Business Academy of Alumni Fellows (2009)
About Sue Aramian
Sue Aramian holds several titles: first female graduate from Indiana University's executive development program, first female officer of a Fortune 500 company, first female officer of a leading restaurant chain. Sue was the longtime business partner of E.W. "Ed" Kelley, the Kelley School's namesake, who acknowledged her as one of the modern-day founders of Steak n Shake.
Aramian's career began as a development officer for Brown University. She later joined the consumer group of Gulf & Western Industries where she worked with Kelley. They became associated with Fairmont Foods, a Fortune 500 company, and Aramian became its first woman officer. Subsequently, she and Kelley established a business partnership which acquired several companies, restructuring internal divisions. Kelley & Partners attained majority control of Steak n Shake in 1981, where she became director and vice chairwoman, retiring in 2003.
Aramian's relationship with Indiana University is long standing. She is a member of the IU Foundation Board of Directors, the Kelley School's Dean's Council, and the President's Circle, and has advocated for women in business. She has served on the Purdue University Hotel and Restaurant Advisory Board, offering hospitality students scholarship opportunities. Aramian formed a philanthropic Foundation, establishing the Aramian YMCA Child Care and Senior Center in Armenia. The center provides educational, social, and cultural programs while offering career internships for young adults. In Spring of 2009 Aramian plans another trip to Armenia, to attend the dedication of a YMCA camp she has sponsored.