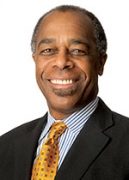 Awards
IU Foundation President's Medallion (2020)
Bicentennial Medal (2019)
Kelley School of Business Academy of Alumni Fellows (2009)
About Louis G. Jordan
Louis Jordan became Senior Vice President of Finance for Starbucks Coffee Company on February 23, 2009. Prior to that position, Jordan served as Chief Financial Officer of Global Retail and Digital Commerce for Nike, Inc., in which his management scope included finance responsibility for all Nike-owned retail and factory stores as well as digital commerce activities globally. Jordan joined Nike in February 2003 as Chief Financial Officer of USA Retail, and he also headed up Global Business Planning for Nike, Inc., for two years.
He received his B.A. in history from Westmar College, his M.A. in history from Brown University, and his M.B.A. in finance from the IU Kelley School of Business in 1980. At IU, Jordan was a Consortium for Graduate Study in Management Fellow, President of the Finance Guild, and recipient of the Outstanding MBA Award in 1980. Since receiving his MBA, Jordan has worked for a succession of Fortune 500 companies, including DuPont, Dun & Bradstreet, Citibank, Duracell, and The Gap.
Jordan, along with his wife Lynda, began production of estate-grown Bordeaux style wine in 2006. The Louis and Lynda Jordan vineyard, under the brand name "Tympany 5", is located in the Alexander Valley of Sonoma County, California.
Jordan has served as a member of the Board of Directors of the Kelley School of Business Alumni Association and as President of its San Francisco Bay Area Alumni Chapter. He has been a member of the Advisory Board of the Indiana University Johnson Center for Entrepreneurship and Innovation since 2006. In 2012, he was appointed to the IU Foundation Board of Directors.