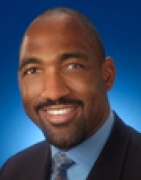 Awards
Bicentennial Medal (2020)
Kelley School of Business Academy of Alumni Fellows (2008)
About Derica W. Rice
Rice, who received an MBA in 1990 from IU's Kelley School, became senior vice president and chief financial officer of Eli Lilly and Co. in May 2006. He is a member of the company's policy and strategy committee and the operations committee and had been vice president and controller since July 2003.
Rice joined the company in 1990 as an international treasury associate. He held various assignments as a sales representative, manager of global financial planning and analysis for the medical devices division, and global planning manager for pharmaceuticals.
In 1995, he became finance director and chief financial officer for Lilly Canada. In 1997, Rice was promoted to executive director and CFO for European operations based in London. He was named general manager of Lilly United Kingdom and Republic of Ireland in January 2000.
Rice serves as a member of the boards of directors for Target Corp., Clarian Health North and The Center for Leadership Development. He also serves as a member of the IU Board of Trustees and the Board of Governors of the Indianapolis Museum of Art. Born in Decatur, Ala., he received a bachelor of science degree in electrical engineering from Kettering University (formerly the GMI Engineering & Management Institute) in 1988.
In 2020, Derica W. Rice was presented the Bicentennial Medal for his distinguished service to Indiana University.