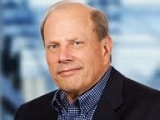 Awards
Kelley School of Business Academy of Alumni Fellows (2006)
About A. Jay Graf
Mr. Graf had responsibility for Guidant's four operating groups: Cardiac Rhythm Management, Cardiac Surgery, Endovascular Solutions and Vascular Intervention. Prior to this assignment, Mr. Graf served as President, Cardiac Rhythm Management, a position he held since 1992.
Mr. Graf joined Eli Lilly and Company in 1976 and became a District Sales Manager in 1980. In 1982, he moved to Lilly's Medical Devices and Diagnostic division where he served in several management positions including Vice President of Sales and Marketing and Senior Vice President of Operations at Physio Control Corporation. In 1990, Mr. Graf was named Executive Vice President and Chief Operating Officer of Cardiac Pacemakers, Inc. (CPI). In 1992, he became President of CPI, which is now part of Guidant's Cardiac Rhythm Management group.
Born in Chicago, Illinois, Jay graduated from Boston University with a Bachelor of Science degree in economics. From 1970 to 1974, Mr. Graf served in the United States Air Force including one year as a military advisor in Vietman, where he was awarded the Bronze Star. He achieved the rank of Captain prior to his honorable discharge. In 1976, he earned a Master of Business Administration degree in finance from Indiana University.
Mr. Graf serves on the board of directors for American Medical Systems, Inc.; Cvrx Corporation; Intermagnetics General Corporation; and CABG Medical Corporation. He has served on the boards of the National Association of Manufacturers and St. Paul United Way. In October of 2005 Mr. Graf joined New Enterprise Associates, one of the world's oldest and largest venture capital firms, as a Venture Partner. He is also a member of the Kelley School's Dean's Advisory Council.